9-in-1 Clothing Hanger (Pack of 5)
Rs. 699.00
Rs. 1,399.00
SAVE 50%
5 PCS COMBO OFFER 
 ✔️ 

KEEP YOUR CLOSET ORGANIZED -

 
Each 9-in-1 Hanger can be used to group shirts, hoodies, jackets, jumpers, ect. It's up to you how you want to organize but our hangers make it easy!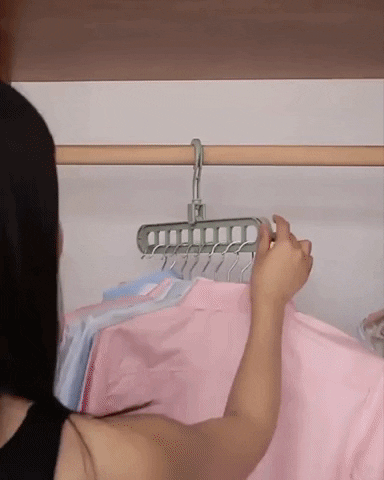 ✔️ FREE UP CLOSET SPACE - Fit up to 3x more clothes in your closet. More clothes hung up mean less crammed in your dresser, in storage bins, or on your floor.
✔️ KEEP YOUR CLOTHES ACCESSIBLE - Easily find outfits to wear without rummaging through all of your clothes (and then having to rehang them all).
HOW DOES IT WORK?

Simply attach 9 shirts, jumpers, jackets etc to ordinary hangers, then place each hanger to an allocated hole, finally unlatch and drop the hanger vertically to free up 3x more closet space.
WHO IS IT FOR?

If you have a lot of clothes, limited closet or drawer space, or just like being organized, then our 9-in-1 Clothing Hangers are perfect for you.
They're designed to help you free up closet space and keep a more organized and accessible wardrobe.
It's the perfect solution for anyone looking for a more practical closet.
SHIPPING & DELIVERY
All Orders Are Professionally, Prepared, And Dispatched Within 1 to 2 Business Days. We Currently Offering Free Shipping. The Typical Delivery Time Frame is Anywhere From 3-8 Business Days. Depending On Your Location, You Might Receive Items Much Earlier

Tracking Number Will Be Automatically Sent As Soon As The Order is Shipped. Rare Times There Might Be Additional Delays That Are Beyond Our Control Such As Customs Or Postal Delays. Thanks For Understanding!
7 DAY GUARANTEE
We Have An Iron-Clad Risk-Free Guarantee. If You Aren't Satisfied With Our Product, You Have Up to 7 Days After Receiving Your Product to Contact Us support@Divinoir.in) And Ask For a Full Refund/Replacement If Have Any Kinds Of Damages Or Defective